How many times do we read novels that cover versatile aspects of our life – materialistic ends, spiritual ends and human emotions? If I remember well, I did not find a novel on my recent reading list that deals with themes other than love, murder and suspense. However, within the ambit of these themes, is there something else that we can do? Can authors bring home the aspects of human life like greed, envy, religion and spiritualism in their writings? Well, while many authors have been working on such issues, we seldom find these novels in the mainstream. The recent one is by Ravi Dabral – Greed Lust Addiction. In this novel, the novelist has written extensively about the 'other side' of our country that is abode to the saints, yogis and mahatmas who are free from the weaknesses that corrupt human soul – greed, lust and addiction.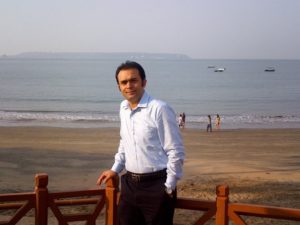 Greed Lust Addiction is a novel published in 2019 and written by Ravi Dabral, an author who has won International Mal of Excellence award for his good works in various fields. Ravi Dabral's writings are mostly connected with the ploys to make human life happy, satisfied and free from the evil forces. He writes with a purpose and that purpose is not only to entertain the readers (when he writes fiction) but also to enlighten them with an underlying aspect in the main theme. He chooses his characters carefully and he does the same with his plot. You can find in his latest work, Greed Lust Addiction, that he has given space to a character like Guruji and also inserted in the course of his narrative the benefits of chantings, yoga and dhyan.
Ravi Dabral was born in Uttarakhand, the land of seers and sages and Gods. He currently lives in Singapore and works as a commodity trader. He has earned over 25 educational qualifications by his hard work and has been awarded fellow memberships in seven international institutions in the field of corporate services, mediation, cost and management, ship broking and many others.
Other than his educational qualifications and business understanding, Ravi Dabral has also been actively in touch with the saints and seers of Uttarakhand and other parts of India where he learnt the secrets of a satisfied and happy life. He has, for almost 15 long years, been conducting research, investigation and understanding the jewel of spiritualism that the saints in Himalayan and other parts of India possess. And thus, the author prepared himself to write works like Secrets of a healthy, wealthy & happy life and Greed Lust Addiction.
You can read the novel and nonfiction books written by Ravi by visiting the Amazon website or you can also visit his website and learn more about him.
Ravi Dabral – official author website