Anitha Rathod, a famous children author from India, has recently launched her book on Holi – Why do we celebrate Holi: Holi Festival. As her latest book has once again gone popular among the kids and parents, we have thought to bring to our readers some interesting facts about the author. And, as in the past, we hope that our writing will be helpful, interesting and useful as well. Raising children is a big responsibility and children's literature is something that matters a lot. And so, knowing about good authors who write for children will always be helpful for the parents in choosing what their children read. So, let's unfold the interesting facts about our author of the month – Anitha Rathod.
"They say when you don't find the books that you are looking for, write them yourself.  That's what I started doing. I am deeply inspired by many books personally and always wanted to find a way to pass them on to my children through exciting stories, in a way that they can understand, appreciate and most importantly relate."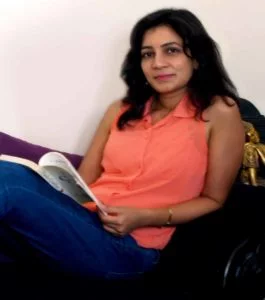 So, as you can see, Anitha Rathod started writing children literature because she felt that the books currently available for children are either not too children-friendly or cannot pass the essential information, knowledge or reading pleasure to them. And that's why the author has decided to write the books for children in a way that they can comprehend and learn and at the same time enjoy the works they read. Her writing style and content are the main reasons that she has become one of the bestselling children book writers in India.
The changing contours have been the reason that literary taste constantly keeps changing. Today, children not only find a lot to read on digital platforms but also engage with digital devices a lot. Learning has almost become reliant on the use of technology. So, the readers of young age must carefully choose what they read and what they learn. At the same time, Anitha thinks that the authors must also accept the changes. She feels:
"I believe, literature has to follow the trend in the ideas and themes that appeal and talk to the current generation."
Anitha Rathod has written many books until now. She writes fairy tales, futuristic and modern version of ancient tales and also about the Indian culture and tradition in a way that would entertain the children and also make them learn. She feels that Indian works in the domain of children literature have contributed a lot. She says:
"India has a rich legacy in terms of its contribution to children literature, dating centuries back through folktales and short stories. These books passed on to us over generations are still very popular across the world."
So far, she has written:
Shelly's Stocking Goes Missing
Messy Bun Princess
Why do we celebrate Holi: Holi Festival
The Story of Dussehra and Diwali
Ramadan: My First Fast
Mouse Princess and Space Animals: Panchatantra Stories with a Twist
As you can see from the titles, Anitha's books are not only entertaining but also full of knowledge and lessons for life. She also aims at communicating to her readers the essential set of information that we must have as our country has a rich inheritance of cultural festivity and deep ocean of knowledge in the form of books and stories.
So, don't wait in the line behind. Move ahead and gift your children the books they will love. This Holi, you can make your kids' festival special with a beautifully coloured book and an amazing storyline that will tell the readers why do we celebrate Holi. All the best!
Buy the book now: click here to get one from Amazon
A feature story by Ananya Sharma for Indian Book Lovers